Director Libraries Message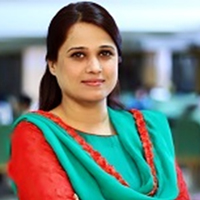 Ms. Rakshanda Kokab
Director Libraries
Dear Readers,
I'm very pleased to welcome you to University of Central Punjab Library. I hope that you would find plenty of useful information about library services and resources by surfing through it. The new website allows easier and quick information retrieval, information about library facilities, privileges and membership entitlements.
The library provides a wide collection of resources in print and electronic format to support UCP's mission, faculty members, and staff and students quality learning experiences. We frequently add items to the library collections on variety of subjects to support the university programs.
The library staff always strives to provide efficient services by having years of experience in library professional field with the rich resources of our collection and stays up-to-date with evolving technologies. We hope that you, not only take the opportunity to explore these resources on your own, but also utilize the expertise of the library staff for assisting you to locate your desired information regardless of its place and format.
Your feedback and suggestions are considered as a source of improvements; enabling us to review and improve our services to match your needs.
If you wish to, please e-mail your suggestion at rakhshanda.kokab@ucp.edu.pk.